Our Taverna is the ideal place for you to enjoy your holiday nights relaxing and having fun! In our inside room while you are listening to a good traditional music, you can chat with your own friends and also make new ones! On our several T.V.screens we propose to show the most important sport events of the day, the hottest musical videos and much more!
The tables outside allow you to enjoy the atmosphere of the characteristic
" vicoletto" the narrow street,in the oldest part of the town, whilst sampling a cold beer or a good glass of wine made from grapes grown in our own vineyard!

In the Taverna you can meet your friends and loved ones and have a party for your special events such as a birthdays, anniversaries wedding or any other special event in your life!

Our staff will look after your event taking care of your every particular need,to ensure you have every thing you require, to make your party special and really unforgettable.
Beside the private parties, every night in the Taverna there is something to celebrate, we organize Beer parties where you can taste several kinds of beer, draft or bottled, Sport parties on the days of important sports events which will be shown on our screens so that you can enjoy the match and support your team with many other people.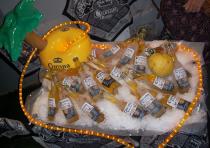 Beer party
In our Taverna beer is always available, We have 10 kinds draft and a vast assortement of bottled beer ready for you at any time and always served extra-cold! You can also try our ciders a typical beer made from fruits like apples, pear and red fruits, very popular in the UK.
Once a week our Taverna changes completely for " the Big Party" and with our usual enthusiasm we offer everybody momentos of the different kinds of beer.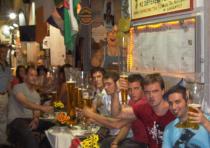 Sports party
5 screens and all the sport you want! Watch a match during the World Championships, or other important matches, Moto GP, Formula 1 or sports commentary of tennis, motorbikes, basketball, volleyball and rugby. Enjoy the spectacular the emotion and the atmosphere with other like minded people!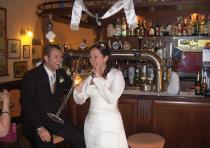 Wedding party
Are you getting married in Sorrento? We can cater to your every detail to organize the wedding as you wish, or just have you and your guests in our Taverna for a drink or a buffet. We offer the bride and groom their first "toast" in a huge glass and for all the guests the bar of the Taverna is always available for a good selection of cocktails prepared to order, national and international liquers, our beers and the tasty snacks like bruschetta, panzarotti and pizza. The bride and the groom will find here the ideal setting for their fun pictures to make the celebration a truly memorable day!