How do you have passed your holiday?
Leave a message using the form below
I messaggi lasciati dai nostri clienti
stephen 22/12/2016
This cooking course was the best course I have ever taken in Italy and maybe ever. I first took the Italian menu course. I can honestly say that from the buschetta to the chicken with white wine an d tomato, the food was very delicious. I then took the ice cream course and chesse course and both of the course were excellent. I took a class in sorbet at carpingini in bologna and this class gave me more information, on how to make both gelato and sorbet in your home. Also I think these course are beyond an excellent value when you consider the price, which I would pay double for these courses. However they tend to be lower than the course I paid for similar classes. Overall, my time here was excellent and I will come back here again!!!!!!!!!!!!!!!!!!!!!!!!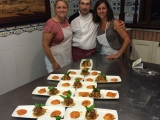 Melissa Moritsch 25/07/2014
My sister and I had a wonderful time ate the cooking school and staying in your lovely B&B!
Thank you William and Maria and all your staff!
I highly recommend this experience in Bella Sorrento!!
Grazie mille!!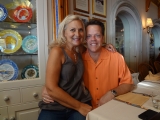 Anna and Paul 09/10/2013
William and Maria, we enjoyed meeting you and having fun talking with you. We will look you up again when we return to Sorrento again. And we will try to get to the Sorrento Restaurant in Toronto.
Thanks for the nice memories.
Ciao my friends....
Anna and Paul
Anna and Paul 09/10/2013
William and Maria, we enjoyed meeting you and having fun talking with you. We will look you up again when we return to Sorrento again. And we will try to get to the Sorrento Restaurant in Toronto.
Thanks for the nice memories.
Ciao my friends....
Anna and Paul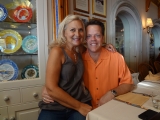 Anna and Paul 09/10/2013
William and Maria, we enjoyed meeting you and having fun talking with you. We will look you up again when we return to Sorrento again. And we will try to get to the Sorrento Restaurant in Toronto.
Thanks for the nice memories.
Ciao my friends....
Anna and Paul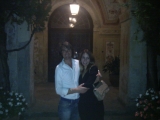 MARIKA 30/09/2013
Ciao ragazzi! vi ricordate di noi? siamo venuti in Agosto, e ci siamo trovati benissimo!
Complimenti e a presto!
Marika e Michele da Padova