Would you like to sleep in the historical center of Sorrento? We offer you the best solution. The Old Taverna Sorrentina allows you to stay in a wonderful central position of the town in an atmosphere of warmth and relaxation and surrounded by all possible comforts.

The Old Taverna Sorrentina has 3 spacious, bright rooms, inaugurated in 2008, and includes one for handicapped people, all equipped with LCD flat screen TV, satellite connection, mini bar, safe and airconditioner.
Choose the room that appeals to you most:
Each room has its own style and all with adjoining bathroom with shower and/or bath, tiled walls and bath-towels.
All the rooms are decorated with antique Amalfi Coast majolica hand-painted tiles depicting the little streets of Sorrento.

If one would like to access the rooms from the outside through an independant entrance, or directly from the Taverna, one would be able to do so via an elevator. From the big terrace on the top floor, you can gaze upon all the of the historical centre of Sorrento, for example the characteristic bell-tower of the Cathedral and a few metres beyond this, the sea-view which extends into the Gulf of Naples and to the Monte Lattari. The terrace is open from March to October and is ready to welcome you for a drink or to provide you with a perfect place to enjoy the Sorrentine sunshine and suntan.

The Gargiulo Family have available another apartment situated in the historical centre of Sorrento which sleeps 4 to 7 people, has a kitchen, airconditioning and services.
Imperial Suite - Antica Sorrento
Canera reale con antichi affreschi ,mobili della metà dell'800 ,letto in ferro battuto due piazze e mezzo
Superior - Isola di Capri
Characterised by the disticntive colour blue of the Isle of Capri and the azzure of its Blue Grotto. Splendid coral, shells and objects found in the deep blue sea.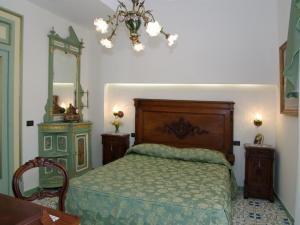 Suite - Amalfi coast
The Suite consists of two rooms, lounge with bed settee and kitchen and room with king size bed.
The furniture is all from 1850, with chandeliers of Murano glass and mirrors in Venetian glass.
The bed and bedside cabinets are 1867 sculptures by a Sorrentine master carpenter.