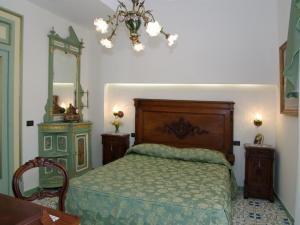 The Suite consists of two rooms, lounge with bed settee and kitchen and room with king size bed.
The furniture is all from 1850, with chandeliers of Murano glass and mirrors in Venetian glass.
The bed and bedside cabinets are 1867 sculptures by a Sorrentine master carpenter.
The bathroom includes a bidet and hydromassage shower and is decorated with Amalfi tiles.
e dell'innovativa luce per la cromoterapia.