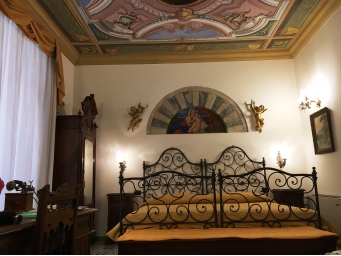 The Imperial Suite is the largest and most elegant room of our structure.
Adorned with recently restored frescoes and brought to their former glory, the Imperial suite is furnished with furniture from the mid-1800s and a wrought-iron double-and-a-half bed.
It is equipped with equipped kitchen, mini-bar and tea time.
It has a fully equipped kitchenette (dishes, cookware ect) with incorporated fridge.
The room has a large private bathroom, equipped with washing machine, sink, bidet and a double hydromassage shower with light for the color therapy.