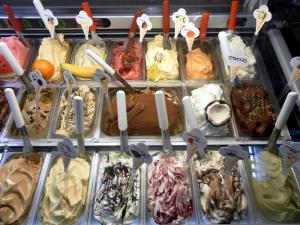 Ice Cream School
The Cooking School of the Old Taverna Sorrentina was born from the experience of 3 generations of our family who worked in the art of ice cream making. From 1860 the Gargiulo family have been leaders in the field of Ice Cream production.


Our family story
Our family story was born from milk, having always started with the very best cows thereby producing the perfect raw materials. To make the very finest products we use only the best Italian ingredients: pistachio from Etna, hazelnuts from Piemonte, coffee from Naples, vanilla from Bourbon etc. These tastes remain the same generation after generation, ensuring the production of the very best home made ice cream.


OUR SORBETS
OUR SORBETS The majority of fruit we use is produced at our farm in Massa Lubrense, where we try to grow them organically and locally km 0.Sorrento is world famous for its citrus fruits, lemons & oranges. These are picked every morning by my parents and freshly squeezed as soon as possible.
GRANITA /SLUSH
In the typical production of the Sorrintine Peninsula Granita/Slush is made from local citrus fruits, especially lemons, which prove to be the most popular. From only 3 ingredients, water, sugar and juice, you can easily make this at home!
Would you like to learn how to make a real Italian ice cream? Being able to prepare numerous and tasty flavors in your home? Thanks to our cooking school at the ancient Taverna Sorrentina, Italian gelato will have no secrets for you!

During the course we intend to illustrate the technical production and explain which are the best ingredients to use. Finally the group will taste all our specialized products.



THE COURSE INCLUDES:



Explanation of the recipes
Preparation of Granita
Preparation of the sorbet
Preparation of ice-cream(gelato)
Tasting with a cup or cone
Price € 30.00 per person
The duration of the course is abaut 1 hour.


Few easy steps to learn how to make Ice Cream
Contact us by e-mail, tell us when you would like to attend the course and wait for our response.
We will provide you with confirmation of the date, time and all the information you need.
Alternatively, use this form and fill in the required fields specifying the course you wish to attend,
we will reply as soon as possible.
For more information you can contact us by phone:
0039 081.8781442 cooking school
0039 3336101103 mobile phone