How do you have passed your holiday?
Leave a message using the form below
I messaggi lasciati dai nostri clienti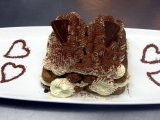 Shirley, Massachusetts 04/12/2012
We had the best time at class with Chef William. My wife and I were part of a group of 7 that spent from 3-8PM in class and eating our creations. We had a blast, my title comes from one of Chef Williams favorite words (you have to take the class to learn why!). We came home with recipes for everthing we made and have already made the bruschetta that was a HUGE hit. This is a hands-on class and William makes the time fly, he's so talented you can't help but pick up some good culinary tips. Besides the cooking Wiliam and his wife have a shop the produces the best gelato, we would stop by at some point most every day to say hi and sample some of his sumptuous deserts and gelato. Highly recommended!
Eugenio e Daniela 10/04/2012
Eccoci appena tornati da Sorrento e dall'Old Taverna Sorrentina.. una camera bellissima, con colazione (a letto) deliziosa e una incredibile gentilezza da parte di Maria :D
Ci siamo trovati un'amore!! Consigliatissimo per tutti.. è proprio al centro di Sorrento, perfetto!

Salutiiiii
Gabriele 04/10/2011
Ho avuto il piacere di fermarmi a gustare una squisita insalata 'e mare e una frittura di pesce ottima accompagnata da una falanghina della casa nei giorni vicino a ferragosto. Grazie
Howard Smith 13/08/2011
We had a brilliant time in Sorrento and enjoyed some fantastic evenings sat outside drinking your wonderful wine! Thanks!
Verena Rawling 26/07/2011
Hi William

As promised, I am sending you some photos.

Thank you and your wife & mother, for a wonderful lunch and all the fun entertainment.

Cheers
Verena
Marc 26/07/2011
Hi mate

not sure if you remember me, the nutty englishman who takes pictures and drinks coffee instead of beer?

hope business is still good for you and mamma? give her my regards........ i know she won't remember me either but anyhow....

as promised some of the pictures i took whilst drinking your excellent coffee. they will be fine for website images but if you want to print any for picture signs i will need to send the full sized files and these can only be done one at a time because of their size

just let me know if you need any and i will send them on

many thanks for looking after us and feel free to drop me a line if you are ever in london

marc

:~)