How do you have passed your holiday?
Leave a message using the form below
I messaggi lasciati dai nostri clienti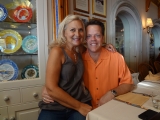 Anna and Paul 09/10/2013
William and Maria, we enjoyed meeting you and having fun talking with you. We will look you up again when we return to Sorrento again. And we will try to get to the Sorrento Restaurant in Toronto.
Thanks for the nice memories.
Ciao my friends....
Anna and Paul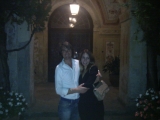 MARIKA 30/09/2013
Ciao ragazzi! vi ricordate di noi? siamo venuti in Agosto, e ci siamo trovati benissimo!
Complimenti e a presto!
Marika e Michele da Padova
Frank & Gill Harris 24/09/2013
What a gem of a find this was. We came across it by pure chance and luckily someone had not turned up for their stay and you were able to offer us a superb suite for 5 nights after we were very unhappy with our accommodation elsewhere. The suite was much more than we had hoped for - beautifully decorated and clean. Very many thanks to William and Maria, and Mariella who served breakfast of croissants and coffee with a smile every morning. Thanks also to Maria for the croissants and orange you gave us for the journey back to the airport. We cannot recommend it enough - and indeed have already done so!
Mariangela e Salvatore Zino 14/04/2013
Siete un ricordo carissimo della nostra vita. Maria Carmen, Donna gentilissima, sempre disponibile a qualsiasi richiesta. Location fantastica. Centralissima . Un caro abbraccio a tuo marito e ai tuoi piccoli.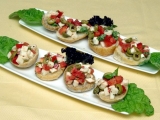 Jon Rubery 05/04/2013
Hi William (Guglielmo?)
I just wanted to let you know that the experience that you gave us in your cooking school made both my visit and our anniversary unforgettable.
My wife has insisted on me attempting the Bruschetta and the Carbonara (although I have not been brave enough to attempt the woodland dish!).
Also, I thought that you'd like to know that you have changed the course of one of the sixth form boy's life; he has now decided that he wants to take a year out of full time education and has set his heart on spending the time in Italy, absorbing the culture and learning skills at the same time!
Anyway, I just thought that I'd share the fact that the experience was that important to us and that we haven't come home and forgotten it. I have done my best to mention you and your restaurant to as many organisations as possible- hopefully you will see some, off season, trade as a result. At the least, a return visit with my new school when we come (next Easter) is already being planned!
Thanks again,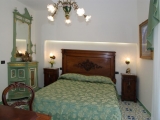 Anna 04/12/2012
5 of us ladies stayed at their B&B, ate many times in restaurant and enjoyed the gelato and limencello many times AND went to Williams 4 course cooking class. NOT one single complaint amongst the 5 of us!! The family and staff bent over backward to accommodate us including Williams wife who walled in the rain, in the dark to guide us to the B&B and even helped carry our luggage. If 5 women of different ages and backgrounds could not find fault....well that tells you something! We are already planning our return trip but will go in May or September . We love William, Maria, Happy, Momma, the 3 handsome gentlemen in the restaurant where re ate at least 5 meals out of the 7 days we were there. Perhaps those who did not appreciate there real old world experience should stay home and hire servants whose only job is to please them and them only. We 5 say 10 stars if we could. We formed friendships because we are real people who do not hold ourselves above others and William and all knew it and reached out to us as well.