How do you have passed your holiday?
Leave a message using the form below
I messaggi lasciati dai nostri clienti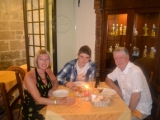 Andrea, Rod and Nicholas Witts 24/07/2011
Hello family
Do you remember my family who ate at your wonderful restaurant a few weeks ago? We really enjoyed our evenings with you and your superb staff. Of course I made it more interesting for everyone on the night I fainted through too much sun.

We enjoyed so much that we want to come back next year and stay with you. I have your email address and I shall be in touch next year.
You have a beautiful young boy - he's adorable!
Remember me to your Mama - such a lovely lady and of course the charming waiter and the lovely young waitress .
Ciao
Andrea, Rod and Nicholas Witts
John & Mandy Tyas 17/07/2011
Ciao William, Ecco la foto del duca ho preso l'ultimo giorno della nostra vacanza a Sorrento. Grazie per essere parte della nostra vacanza, con Maria e della mamma naturalmente!
Saremo di nuovo e speriamo di essere in uno dei vostri appartamenti. Se questa traduzione è strano, la colpa Google Translate!
Ciao!
rosaria 05/07/2011
sono stata da voi con il mio compagno poco tempo fa,la nostra intenzione era quella di trascorrere un giorno in completo relax e nel vostro b&b abbiamo trovato tutto quello che cercavamo,il pranzo è stato buonissimo,la camera "isola di capri"bellissima e molto pulita.Spero di ritornare presto in questo piccolo angolo di paradiso.
Philip and Rose Harrison 20/06/2011
We had the best meal of our holiday with you, we only wish we had discovered you sooner! The food was fantastic and you were all so friendly it really made the last night of the holiday special. If we get back to Sorrento, we'll be straight back to the Old Tavern!
Thank you very much
Phil and Rose
sarah strong 06/12/2010
Dear William and Family,
We were the November couple who would not leave! We had an amazing time visiting with you and your kind family. Your cooking was so fresh, simple and delicious. I can still imagine the flavors of the lemon sole I had all three nights! Thank you for the lemonchello you gave us. Our olive oil also made it home safely! I was inspired to cure some green and black olives once I got back to Boston. Do you every have people come help with the olive or grape harvest? I would be most interested.

We will send you more photos in an email. Please send our best to your "Mama"- "The Boss"!!! she was delightful and we loved hearing her stories when she sat with us at our table. Someone should put her stories into a book!! We felt like we were at a home away from home. Molte grazie.

We hope to return to Sorrento again next year! If you or family are in or near Boston let us know.

le cene abbiamo avuto al vostro ristorante sono stati deliziosi.
ciao-
Sarah and Simon
Sarah & Stu 09/11/2010
Dear William
We would just like to say what a wonderful meal we had on 7th November 2010. I was very touched at how attentive and understanding you and your Mother were or my gluten and wheat intolerance. It was an absolute pleasure to eat in such a lovely resturant. We had a wonderful meal and evening. Thank you so much for looking after us both, your professional service and quality of the food!
We wish you luck with the Vineyard during the Winter and a successful 2011 summer season in the resturant.
PS: We are looking forward to drinking your bottle of wine at the end of the week, as sadly we are back to the 'rat-race' - it will remind us of you and what a wonderful evening we had - you made our holiday.