Do you want a personalized menu for your culinary tastes?
A professional chef, just for you, who will get you all the tricks of Italian cuisine?
The chef William Gargiulo is at your disposal.
Choose what you want to learn to cook the Italian tradition.
We will be happy to unveil our culinary secrets.
Send an email with your favorite menu
We will let you know the price of the private lesson


> Back to cooking school
Contact us by e-mail, tell us when you would like to attend the course and wait for our response.
We will provide you with confirmation of the date, time and all the information you need.

Alternatively, use this form and fill in the required fields specifying the course you wish to attend,
we will reply as soon as possible.

For more information you can contact us by phone:
0039 081.8781442 cooking school
0039 3336101103 mobile phone
Messages left by our clients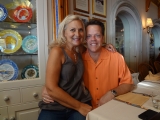 Anna and Paul 09/10/2013
William and Maria, we enjoyed meeting you and having fun talking with you. We will look you up again when we return to Sorrento again. And we will try to get to the Sorrento Restaurant in Toronto.
Thanks for the nice memories.
Ciao my friends....
Anna and Paul
Anna and Paul 09/10/2013
William and Maria, we enjoyed meeting you and having fun talking with you. We will look you up again when we return to Sorrento again. And we will try to get to the Sorrento Restaurant in Toronto.
Thanks for the nice memories.
Ciao my friends....
Anna and Paul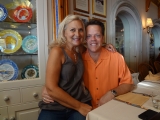 Anna and Paul 09/10/2013
William and Maria, we enjoyed meeting you and having fun talking with you. We will look you up again when we return to Sorrento again. And we will try to get to the Sorrento Restaurant in Toronto.
Thanks for the nice memories.
Ciao my friends....
Anna and Paul
Frank & Gill Harris 24/09/2013
What a gem of a find this was. We came across it by pure chance and luckily someone had not turned up for their stay and you were able to offer us a superb suite for 5 nights after we were very unhappy with our accommodation elsewhere. The suite was much more than we had hoped for - beautifully decorated and clean. Very many thanks to William and Maria, and Mariella who served breakfast of croissants and coffee with a smile every morning. Thanks also to Maria for the croissants and orange you gave us for the journey back to the airport. We cannot recommend it enough - and indeed have already done so!
Three easy steps to learn how to cook Italian style
First. We will check availability for your requested dates and other information.
Second. We will send you an email confirming your dates
Third. We look forward to your final confirmation.
Come to Sorrento to enjoy cooking Italian style
To request more information Use this form.
Fill out the required fields and specify your request
One our family will be pleased to answer as soon as possible.
Please call us for any questions at
Old Taverna Sorrentina
0039 081.8781442 cooking school
0039 3336101103 Mobile phone