Do you want a personalized menu?
A chef only for you that tells you all the tricks in the kitchen Italian?
The chef William Gargiulo is at your disposal
Choose what you like most about cooking
Send an email with your personal menu
We'll let you know about the price of private lesson


> Back to cooking school
Contact us by e-mail, tell us when you would like to attend the course and wait for our response.
We will provide you with confirmation of the date, time and all the information you need.

Alternatively, use this form and fill in the required fields specifying the course you wish to attend,
we will reply as soon as possible.

For more information you can contact us by phone:
0039 081.8781442 cooking school
0039 3336101103 mobile phone
Messages left by our clients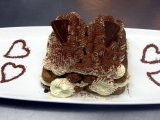 Shirley, Massachusetts 04/12/2012
We had the best time at class with Chef William. My wife and I were part of a group of 7 that spent from 3-8PM in class and eating our creations. We had a blast, my title comes from one of Chef Williams favorite words (you have to take the class to learn why!). We came home with recipes for everthing we made and have already made the bruschetta that was a HUGE hit. This is a hands-on class and William makes the time fly, he's so talented you can't help but pick up some good culinary tips. Besides the cooking Wiliam and his wife have a shop the produces the best gelato, we would stop by at some point most every day to say hi and sample some of his sumptuous deserts and gelato. Highly recommended!
Howard Smith 13/08/2011
We had a brilliant time in Sorrento and enjoyed some fantastic evenings sat outside drinking your wonderful wine! Thanks!
Marc 26/07/2011
Hi mate

not sure if you remember me, the nutty englishman who takes pictures and drinks coffee instead of beer?

hope business is still good for you and mamma? give her my regards........ i know she won't remember me either but anyhow....

as promised some of the pictures i took whilst drinking your excellent coffee. they will be fine for website images but if you want to print any for picture signs i will need to send the full sized files and these can only be done one at a time because of their size

just let me know if you need any and i will send them on

many thanks for looking after us and feel free to drop me a line if you are ever in london

marc

:~)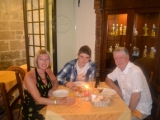 Andrea, Rod and Nicholas Witts 24/07/2011
Hello family
Do you remember my family who ate at your wonderful restaurant a few weeks ago? We really enjoyed our evenings with you and your superb staff. Of course I made it more interesting for everyone on the night I fainted through too much sun.

We enjoyed so much that we want to come back next year and stay with you. I have your email address and I shall be in touch next year.
You have a beautiful young boy - he's adorable!
Remember me to your Mama - such a lovely lady and of course the charming waiter and the lovely young waitress .
Ciao
Andrea, Rod and Nicholas Witts
Three easy steps to learn how to cook Italian style
First. We will check availability for your requested dates and other information.
Second. We will send you an email confirming your dates
Third. We look forward to your final confirmation.
Come to Sorrento to enjoy cooking Italian style
To request more information Use this form.
Fill out the required fields and specify your request
One our family will be pleased to answer as soon as possible.
Please call us for any questions at
Old Taverna Sorrentina
0039 081.8781442 cooking school
0039 3336101103 Mobile phone