Do you want a personalized menu for your culinary tastes?
A professional chef, just for you, who will get you all the tricks of Italian cuisine?
The chef William Gargiulo is at your disposal.
Choose what you want to learn to cook the Italian tradition.
We will be happy to unveil our culinary secrets.
Send an email with your favorite menu
We will let you know the price of the private lesson


> Back to cooking school
Contact us by e-mail, tell us when you would like to attend the course and wait for our response.
We will provide you with confirmation of the date, time and all the information you need.

Alternatively, use this form and fill in the required fields specifying the course you wish to attend,
we will reply as soon as possible.

For more information you can contact us by phone:
0039 081.8781442 cooking school
0039 3336101103 mobile phone
Messages left by our clients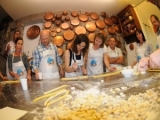 Wichita, Kansas I 11/02/2019
This class has inspired me to incorporate private cooking classes into more of my travel experiences. Hands down, one of my favorite things about Italy was this class. This set the bar for what to expect from Italian cuisine! The class was fun, but really it was so informative and I took away from it! I even made the dishes at home and they turned out fantastic! I loved the husband-wife dynamic of the cooking class. Chef William was very entertaining and kept everyone on their toes. You HAVE to do this, or you are seriously missing out!!!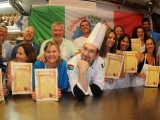 Calvari Canada 11/02/2019
Cook like a chef Italiano

The owners have a passion for Southern Italian food, and love to share their expertise. My wife and I make our own pasta and have for years. However, we picked up many new techniques, and the Chef simplified the entire process. We made bruschetta, one of the best we have ever tasted. Also tagliatelle with lemon sauce, and chicken scaloppine in a tomatoe sauce. He schooled us on the importance and use of high quality ingredients, and not to over use garlic. This was a very informative, fun, and highly worthwhile evening. Worth every euro!
stephen 22/12/2016
This cooking course was the best course I have ever taken in Italy and maybe ever. I first took the Italian menu course. I can honestly say that from the buschetta to the chicken with white wine an d tomato, the food was very delicious. I then took the ice cream course and chesse course and both of the course were excellent. I took a class in sorbet at carpingini in bologna and this class gave me more information, on how to make both gelato and sorbet in your home. Also I think these course are beyond an excellent value when you consider the price, which I would pay double for these courses. However they tend to be lower than the course I paid for similar classes. Overall, my time here was excellent and I will come back here again!!!!!!!!!!!!!!!!!!!!!!!!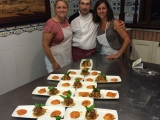 Melissa Moritsch 25/07/2014
My sister and I had a wonderful time ate the cooking school and staying in your lovely B&B!
Thank you William and Maria and all your staff!
I highly recommend this experience in Bella Sorrento!!
Grazie mille!!
Three easy steps to learn how to cook Italian style
First. We will check availability for your requested dates and other information.
Second. We will send you an email confirming your dates
Third. We look forward to your final confirmation.
Come to Sorrento to enjoy cooking Italian style
To request more information Use this form.
Fill out the required fields and specify your request
One our family will be pleased to answer as soon as possible.
Please call us for any questions at
Old Taverna Sorrentina
0039 081.8781442 cooking school
0039 3336101103 Mobile phone