Traditional Cheese Making in Campania Region
Il territorio e le sue fattorie
La nostra storia ......
Mucca o bufalo
La cagliata, filafura, lavorazione,
La caciotta sorrentina, Pezzottella massese
Mozzarella, Treccia, Bocconcini
Il caciocavallo, Ricotta,
Provolone Del Monaco DOP
Degustazione con degustazione
Prezzo: € 65,00 a persona
>
Torna alla scuola di cucina
Few steps to learn how to make mozzarella ...
Contact us by e-mail, tell us when you would like to attend the course and wait for our response.
We will provide you with confirmation of the date, time and all the information you will need.
Alternatively, use this form and fill in the required fields specifying the course you wish to attend,
We will reply as soon as possible.
For more information you can contact us by phone:
0039 081.8781442 cooking school
0039 3336101103 mobile phone
Messages left by our clients
stephen 22/12/2016
This cooking course was the best course I have ever taken in Italy and maybe ever. I first took the Italian menu course. I can honestly say that from the buschetta to the chicken with white wine an d tomato, the food was very delicious. I then took the ice cream course and chesse course and both of the course were excellent. I took a class in sorbet at carpingini in bologna and this class gave me more information, on how to make both gelato and sorbet in your home. Also I think these course are beyond an excellent value when you consider the price, which I would pay double for these courses. However they tend to be lower than the course I paid for similar classes. Overall, my time here was excellent and I will come back here again!!!!!!!!!!!!!!!!!!!!!!!!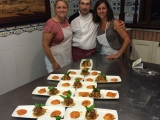 Melissa Moritsch 25/07/2014
My sister and I had a wonderful time ate the cooking school and staying in your lovely B&B!
Thank you William and Maria and all your staff!
I highly recommend this experience in Bella Sorrento!!
Grazie mille!!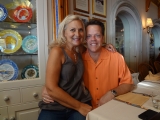 Anna and Paul 09/10/2013
William and Maria, we enjoyed meeting you and having fun talking with you. We will look you up again when we return to Sorrento again. And we will try to get to the Sorrento Restaurant in Toronto.
Thanks for the nice memories.
Ciao my friends....
Anna and Paul
Anna and Paul 09/10/2013
William and Maria, we enjoyed meeting you and having fun talking with you. We will look you up again when we return to Sorrento again. And we will try to get to the Sorrento Restaurant in Toronto.
Thanks for the nice memories.
Ciao my friends....
Anna and Paul